李斯文副教授介绍
作者:

来源:

生科院生物医学工程实验室

点击数:

432

更新时间:

2016-12-13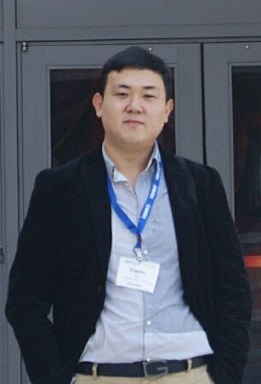 李斯文,中国药科大学,工学院,副教授
教育背景:
2006/09-2010/06, 中国药科大学,生命科学与技术学院 生物工程,学士
2010/09-2015/06, 中国药科大学,生命科学与技术学院 微生物与生化药学,博士(硕博连读)
工作经历:
2015/07-至今,中国药科大学 工学院 讲师
1. 中央高校基本科研业务费专项资金(自然科学类-培育项目),2016/01 -2017/12,8万元,主持
2. 江苏省自然科学基金-青年基金,2016/01-2019/12,19万元,主持
发表论文:
1、Siwen Li, Yuxi Liu, Yalan Rui, Liping Tang, Samuel Achilefu, Yueqing Gu*, Dual target gene therapy to EML4-ALK NSCLC by a gold nanoshell-based system. Theranostics. 2018, 10:2621-2633.
2、Siwen Li, Sisi Cui, Deyan yin, Qiu yun Zhu, Yuxiang Ma, Zhiyu Qian, Yueqing Gu*, Dual Antibacterial Activities of Chitosan-Modified Upconversion Photodynamic Therapy System against Drug-resistant Bacteria in Deep Tissue. Nanoscale. 2017, 9: 3912-3924.
3、Zhaohui Wang#, Siwen Li#, Min Zhang, Yi Ma, Yuxi Liu, Weidong Gao, Jiaqi Zhang, Yueqing Gu*, Laser-Triggered Small Interfering RNA Releasing Gold Nanoshells against Heat Shock Protein for Sensitized Photothermal Therapy, Adv. Sci. 2016, 1600327.
4、Yalan Rui, Bo Pang, Jinnan Zhang, Yuxi Liu, Huixin Hu, Zicun Liu, Sarah Ama Baidoo, Chang Liu, Yu Zhao*, Siwen Li* .Near-infrared light-activatable siRNA delivery by microcapsules for combined tumor therapy. Artif Cells Nanomed Biotechnol. 2018,11:1-10.
5、Siwen Li, Caiping Tian, Yuxi Liu, Zhaohui Wang, Yi Ma, Zhihao Han, Jiaying Du, Jinnan Zhang, Yueqing Gu*. Mechanism of Cellular Uptake to Optimized AuNP Beacon for Tracing mRNA Changes in Living Cells. Particle & Particle Systems Characterization. 2017, 35:1700331.
6、Siwen Li, Song Feng, Li Ding, Yuxi Liu, Qiuyun Zhu, Zhiyu Qian, Yueqing Gu*, Nanomedicine engulfed by macrophages for targeted tumor therapy. Int J Nanomedicine. 2016, 23: 4107-4124.
7、 Yuxi Liu#, Siwen Li#, Dan Chen, Zhaohui Wang, Jinnan Zhang, Caiping Tian, Li Ding, Yaqi Chen, Zhiyu Qian*, Yueqing Gu*, Clinical diagnosis of EML4-ALK mutation in NSCLC by a gold nanoparticle beacon. RSC Adv.2016, 1023-1098.